Bio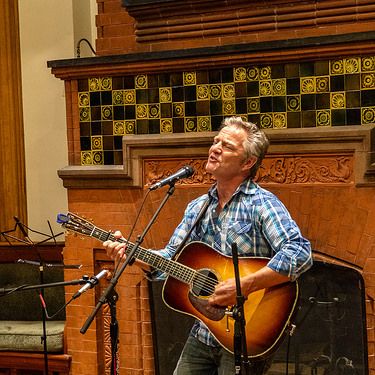 Dan Sirois
Singer/Songwriter
If you appreciate introspective, slice-of-life songwriting that brings vivid pictures to mind upon listening; if you like the rich vocal warmth and storytelling delivery of Cat Stevens and Harry Chapin with an Americana classic rock edge of Tom Petty amid subtle flavors of World Music, you'll love "Blood and Wine," the latest CD release by singer/multi-instrumentalist/songwriter Dan Sirois.
"Blood and Wine," the latest CD from singer-songwriter Dan Sirois, sets a course by which the listener can navigate a myriad of soundscapes that capture life from the personal perspective of a working man.
The third child of nine, born into a musical family, Dan used his musical gifts from a very young age to express his many talents, bringing joy to others through his music. After joining the family ranks of three generations of carpenters, he spent years swinging a hammer by day while writing, playing and singing songs at night, followed by a succession of musical endeavors including solo, duo and band performances.
Dan's first full length CD, "Movies on the Wall" was released in 2005 to favorable reviews and airplay on several New England radio stations. The resultant positive feedback opened the door to many diverse musical opportunities including featured solo performances, songwriting showcases, intimate "house concerts" as well as sharing the stage with a variety of notable local and national artists.
What sets Dan Sirois' music apart from that of other artists is the strong lyrical narratives; his character-based stories full of observation and insight into real life people and experiences that can prompt the listener to crack a smile, shed a tear or simply find familiarity that's easily relatable to situations in their own lives.
Let "Blood and Wine" take you on a musical journey into the heart of this talented and accomplished working man!